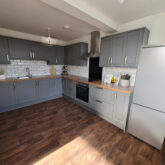 Manor House Conversion (Manygates Hospital)
Project Brief
Planning was approved for the change of use and refurbishment of Manygates into 16 apartments in 2006 however following the completion of the new build units Manygates laid dormant for another 14 years. Manygates Holdings Ltd purchased the site and appointed Tri-core Developments in 2020 to kick-start the project back into life.
Before construction could begin the building had to be made safe. After being left untouched for many years the existing roof, floors and some walls had collapsed. The building was so bad that it was unsafe to undertake a current measured survey.
Tri Core Developments are proud to restore the building back into the landmark of Wakefield it once was.
The building rip out started from roof down and was a major undertaking. The building was converted in the space of just 9 months and has been sold on to a mix of private owner occupier and investor buyers.
Tri-core delivered the project on a design and build contract arrangement. This comprises Phase 2 of development contract